Did you know that you can navigate the posts by swiping left and right?
Torres del Paine Beta
Planning a trip to Torres del Paine? Here's a quick overview of my trip backpacking the full in December 2016, and some things I would have liked to have known while planning.
I also wrote a full trip journal that I hope you'll enjoy.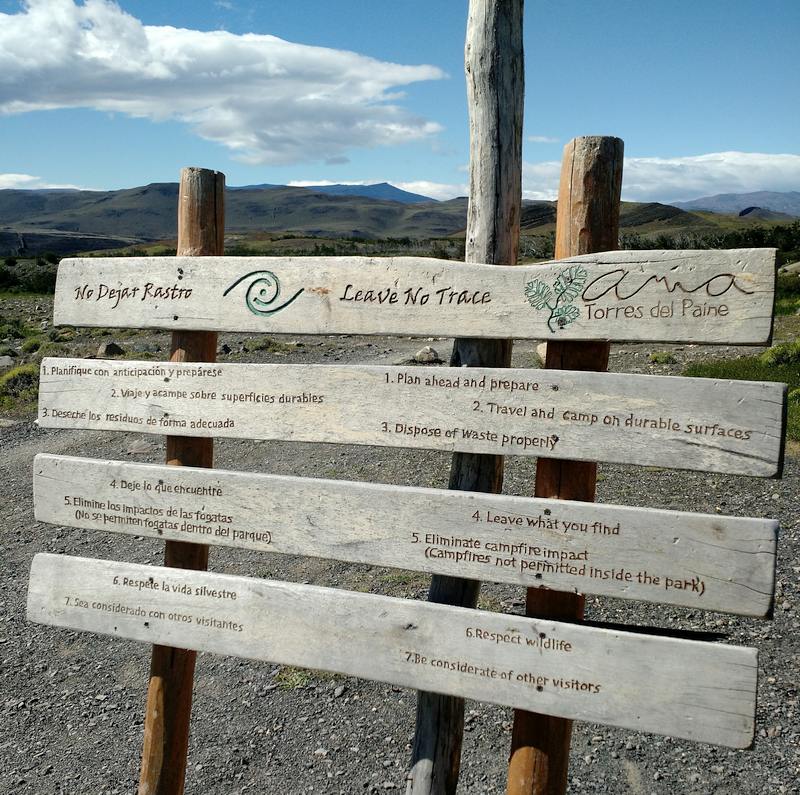 Getting There
Located at pretty much at the end of the world, it's appropriate that getting to Torres isn't exactly easy. But it's not that difficult, it just takes time. Puerto Natales is the launch point for any trip into the park. During the high season, you can fly direct from Santiago. If it's the off season, fly from Santiago to Punta Arenas, then catch a bus. The buses from Punta Arenas to Puerto Natales run almost every hour, all day long. (We were able to walk up and buy seats for the next bus, but it's safer to buy tickets a day ahead if you can.) If you're taking more time exploring Patagonia, you might be coming from Argentina, or taking the ferry from Puerto Mott to Puerto Natales. Without any experience to back it up, both sound like great options.
Puerto Natales has everything you need to supply your trip - there are a number of outfitters and there is one larger chain grocery store, though I didn't visit it. If you can, use the smaller independent shops in town. Many stores sell fuel canisters, but check at your hostel first to snag unused fuel from folks just off the trail.
There are a number of bus companies from Puerto Natales into the park. They all run just about the same schedules. We used Buses Gomez, and have no complaints. I'm sure they're all fine.
Camping
You are required to have camping reservations. It's a way to keep the crowds somewhat manageable (but oh boy is it still very crowded, especially considering how remote the location really is). Figure out your itinerary early and make camping reservations as soon as you can.
This is what we booked for the full circuit:
Serón
Dickson
Paso
Paine Grande
Italiano
Torres
A typical itinerary for the circuit would include an additional night at Perros, and possibly replace Paso with Grey. (An alternate six night itinerary skips Dickson for Perros, and replaces Paso with Grey.) For hiking the W, most recommendations are to hike from West to East, but really there's no wrong way to do it, although bus timings likely work better this direction. What do all these names mean? You'll need a map for that…
Maps
The map you get from the park when you pay the entry fee is actually quite good. Here's a photo of my copy: Torres del Paine CONAF Map 2016 Front (18MB pdf).
Trails are all well marked on the map and in the terrain, and you're not allowed to leave them, so this is more than adequate for navigation. You can find a number of versions of the map online, some better than others. Beware that the latest version (as of this writing) has some changes that are not marked on most of the online maps.
You can't do the "Q" in the summer - the trail from Adminstration to Paine Grande is closed.
Many maps show a trail directly from Laguna Amarga to Serón, but it no longer exists. You can walk the road, or take a shuttle to Torres Central for CLP3000.
You can only walk the backside from East to West: Seron -> Dickson -> Perros -> Paso -> Grey. You'll be turned back at ranger stations if you don't have the right reservation.
From Cuernos, the "shortcut" trail to Chileno is signed and cuts off before (to the West of) the small lake on the map. It appears there is a trail at the marked location east of the lake, but we didn't notice it join the trail we were on.
Food / Cooking
You can find reasonable backpacking fare in Puerto Natales, though if you have specific requests you'll do much better in Punta Arenas or Santiago. For us, breakfast and lunch were typically granola / muesli mixed with dried fruits and peanut butter, and dinner was pasta with salami and cheese. The map is a bit confusing on this, but yes, every campsite has a cooking shelter where you can use your stove. The cooking shelters are also the only places you can use your stove, so pack a thermos if you want a hot beverage after leaving camp.
Coming from bear country, the lack of guidelines for food storage was a bit boggling. We saw and used a variety of strategies. Most popular is to simply keep food with you in your tent. We also hung food from trees as well as from a trekking pole tripod. The threat is mice, but we saw little evidence and had no problems with any of these strategies.
Water
Almost everyone will tell you to just drink the water from streams, and that's probably sound advice. I brought a filter because I don't like giardia, but to be honest I didn't use it 100% of the time. In an odd twist of back-country amenities, some of the camps have rigged up running water systems to provide flush toilets (!) and sinks / taps. For my stance, I'd say it's much more important to boil or filter water you collect from the tap or other in-camp sources than to worry about filtering stream water away from camp. Water sources are fairly regular but not everywhere. You could probably get by with only one liter of capacity if you filled up at every opportunity, but you'll be happier carrying two liters.
Trails
It's busy - everything is well marked and well trodden. That doesn't mean it's easy. You're carrying food for seven days, and in places there are steep ascents and descents. Lots of reports warn of wind, and while we didn't experience any prolonged strong winds, I believe the warnings. The worst trail conditions we encountered were descending from John Gardner Pass into the Paso campsite. Once you reach the tree line, the trail becomes very steep with makeshift handrails made from all different materials: rope, rebar, wood and PVC to name a few. Nothing else stands out as particularly notable, but here's a few more tidbits. The trail on the east leading up to the pass is rocky but well marked. The swing brides north of Grey are long and extremely high, but at appear new-ish and well built. If you're afraid of heights, well, don't look down. Most (but not all) boggy areas have some sort of boardwalk, but this wouldn't be backpacking if you didn't get your boots dirty. Do you best to walk through mud puddles in the middle of the trail so as to not expand the trail into the terrain more than necessary.
More coming soon…
---