Did you know that you can navigate the posts by swiping left and right?
Chile
Seven days on the full circuit in Torres del Paine National Park and a few other southern hemisphere adventures.
Atlanta: Day 0
Santiago: Day 1
Punta Arenas & Puerto Natales: Day 2
Punta Arenas: Day 10
Toronto & Vancouver: Day 13
I also have a page with trail beta if that's what you're looking for.

29 November 2016
I'm waiting for my first flight in the Atlanta airport's new international terminal. It's a lofty white atmosphere with blue accents and much more natural light than other areas of ATL which can be extremely dull. Of course, after a few minutes I notice that here too the lack of flavor is unfortunate. (Even all the official signage is light grey on dark grey, no color at all.) The crowds here all appear very American except for the flight crew from Qatar making their way to a nearby gate. A pleasant surprise is the lack of PA announcements, but it only reinforces the corporate atmosphere.
The flight to Toronto is only half full. Just after takeoff, we pass through some strong turbulence. I can make out thunderheads lit from below by the suburban sprawl. Soon the ride settles out, and thankfully the baby one row behind me calms down as well.
It is clear as we arrive in Toronto. The CN Tower is lit modestly; the rest of the city looks crisp in the cool night air. A mix of orange and white streetlights stretch out to the horizon. The terminal is dark, which is appropriate as it's nearing eleven PM. We clear passport control and continue to our connecting gate. Only after boarding the 777 do I start hearing the spanish all around me. I'll do my best to sleep on this ten hour journey to the Southern Hemisphere.
30 November 2016
About 40 minutes from landing in Santiago, I wake up and slide my window open. Outside, I see mountains bathing in bright sunshine, snowcapped and majestic. I hadn't slept well. A number of crying children and a consistently bumpy ride never allowed me to get real sleep, although I'm not sure what I expected. My body hasn't yet decided if the fact that there is only a two hour time difference between Atlanta and Santiago is good or bad, but I'm currently not excited for another three hours of flying later today.
After dumping our plane snacks from America and clearing customs, we are surrounded by drivers hounding for a fare into the city. Most speak good english, but we turn them down - we're not looking for a ride. After checking bags for this afternoon's flight, we get on a bus into town.
The beautiful views from 10,000 feet are now completely hidden by a blanket of smog. Speeding into town, sports fields fill the space between the highway and frontage roads. The pavement is full, mostly small sedans and buses, but also plenty of mopeds. We get off in a commercial district on the fringe of downtown and start to wander. School children enjoy their lunch and ice cream under trees in a park. Walking through a college campus there's a non-zero chance of being hit by a stray water balloon. We're clearly foreign, but never bothered. The storefronts on one street are selling electric motors of every shape and size. We buy some food for the rest of the trip (we're unsure what sort of supplies are available in Punta Arenas and Puerto Natales, or if there is a significant markup) and catch the bus back to the airport.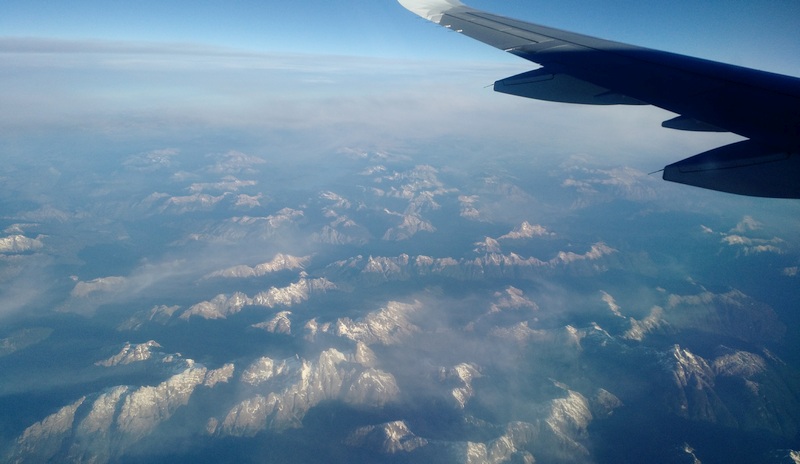 Back in the air above Santiago, I can't help but notice that the plane I'm riding in certainly isn't helping all that smog. As we head further south, the mountainous terrain shifts from desert to forest to snowcapped peaks. Haze and high-altitude clouds play tricks with the afternoon sun to create two horizon lines. The snowcapped peaks shift back into forested land, still rugged, and now dotted with lakes all begging to be explored. The shadows grow long and peaks shine in the golden light. The last hour is less eventful - clouds blanket the terrain and it's getting dark. As we slip under the clouds and see a tanker in the Straight of Magellan on the approach to Punta Arenas, my buddy takes in the view as twilight fades and rain falls: "Depressing, isn't it?" I'm thinking just the opposite.
1 December 2016
It feels like town is still waking up as we wander from our hostel to the grocery store. Now in the light it's still hard to get a feel for Punta Arenas. I wouldn't classify anything as run down, but there isn't anything new or flashy either. We'll get a better understanding of town when we pass through after coming off the trail. In the grocery store we gather some looks but no trouble as we collect food we'll be able to pack. We're only slow because we don't have a plan - the store is a fully stocked grocery. I'm surprised that even with a bag packed full of food, the stray dogs are just as lethargic as they were earlier; not a single one lifts even an eye as we pass.
I purchase bus tickets in only slightly fumbled spanish and we're soon on our way to Puerto Natales. While the plane from Santiago was mostly Chilenos, today's bus is mostly foreigners. It's overcast with rain off and on as we pass through the rolling windswept terrain. Long stretches of straight pavement don't exactly help the monotony, and after a few naps I'm happy to see peaks on the horizon.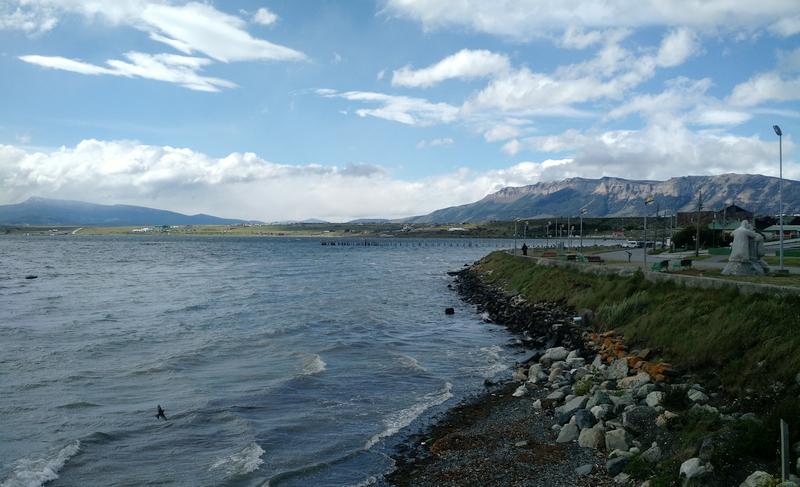 The business district in Puerto Natales has an oddly American feel. Checking in at our hostel is honestly a bit too comfortable: our host is from Minnesota and everyone here speaks english, but on the plus side we're able to catch a great presentation about hiking in the park at the gear store right next door. One more afternoon of wandering before we hit the trail results in dried fruit and a variety of nuts from a hole in the wall shop, almost getting blown off a dock, and our first real encounter with a stray dog. Town shifts from shopping to dinner where we're seated with a great view of a chef roasting a whole lamb over an open fire. We're satisfied and head to bed early, excited and anxious to get on the trail.
2 December 2016
My mattress felt like a box spring last night, so I'm thrilled to wake up for breakfast at 6:15am. We share eggs and granola at the hostel with others also headed into the park today, then make our way to the bus station. It's a bit of a mad house: there are at least three different bus companies headed into the park all leaving at the same time, some with multiple loads. We get our bags on and find seats for another two hours of sitting. Luckily the terrain is much more interesting now, but the early morning sun turns the bus into a greenhouse, fogging up the windows to the West. The road turns to gravel, but we continue to speed along despite the bumpy ride.
On the outskirts of the park, we're treated to a reminder that we're in the southern hemisphere. There are about 50 wild flamingos standing on the banks of a nearly dry lake bed. To be honest, the scene looks like it's straight out of a North American zoo, except there's a distinct lack of terrible food and children in strollers. We turn another corner and the park's namesake rock formation are before us. I can't resist snapping a few photos even though I know we'll get much better opportunities outside the bus. In just a few more minutes we're dropped at the Laguna Amarga ranger station to pay the entrance fee, receive a park map, and watch a quick orientation video (don't make fire!).
We don't even have our packs on before we have a bit of a surprise - this year's map is missing a trail that is marked on previous versions we had seen online. No worries, we'll walk the road which should only add an hour or two to an already short first day. The road undulates through the terrain as we get closer and closer to Las Torres and as we crest a hill, we can see green domes and some other buildings in the valley below us.
We make it onto actual trail, but it doesn't feel like backcountry. We pass groups of day hikers and other backpackers what seems like every ten minutes. The forest is like no forest I've seen before: it's moderately dense with a few types of trees each sporting small leaves, none particularly tall, and a blanket of grasses below. Not long after we leave a gate open (as we found it), some horses approach us headed the opposite direction, no other human in sight. Hours later in the river valley a rancher passes by.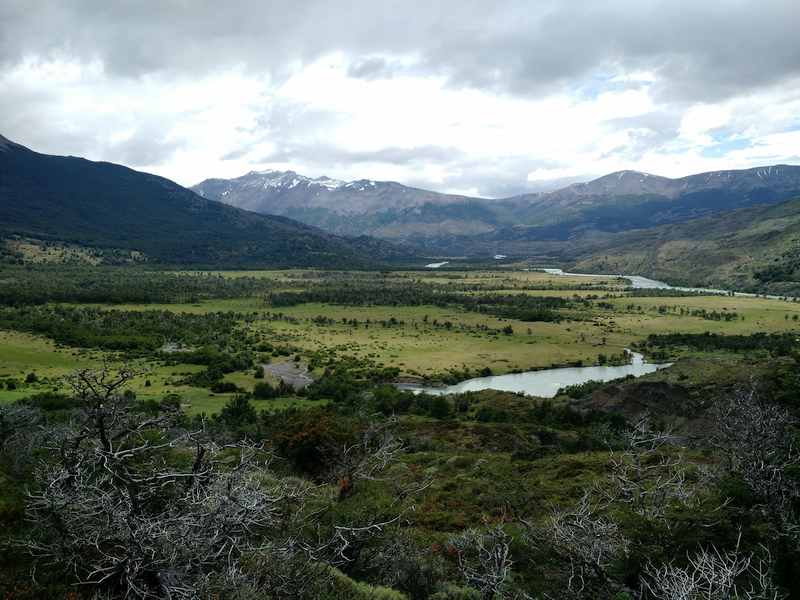 It's hard to call Serón a campsite, but honestly I had no idea what to expect. The host lives in a building with running water and what appears to be an industrial kitchen, a generator, and a satellite dish. There's some food and beer for sale, albeit at an extremely high (appropriate) markup. We show our permit and set up camp in the field around the outpost. Anton and I meet a couple from Norway while cooking dinner on the porch. It's still light out as we head to bed. The parrot in the tree above our tent and the music and generator from the outpost don't help. I make some mental notes about new tent placement strategies and eventually fall asleep.
3 December 2016
It rained a bit overnight, but the ground outside, as well as the food we left hanging in a nearby tree, is surprisingly dry. It seems like we're one of the first few groups out of camp, but it's hard to tell for sure. Low level clouds occasionally sprinkle rain as we make our way up the river valley. The trail is maybe a bit less crowded than yesterday as there are no day hikers from the Torres Central hotel, but we continue to see groups at least every half hour. Everyone is headed the same direction at this point (as mandated by park rules) so later in the day we intermingle with the same few groups hiking roughly the same speed. The fog and moisture brings out the greens as we cross through plains, forests, and rocky hillsides.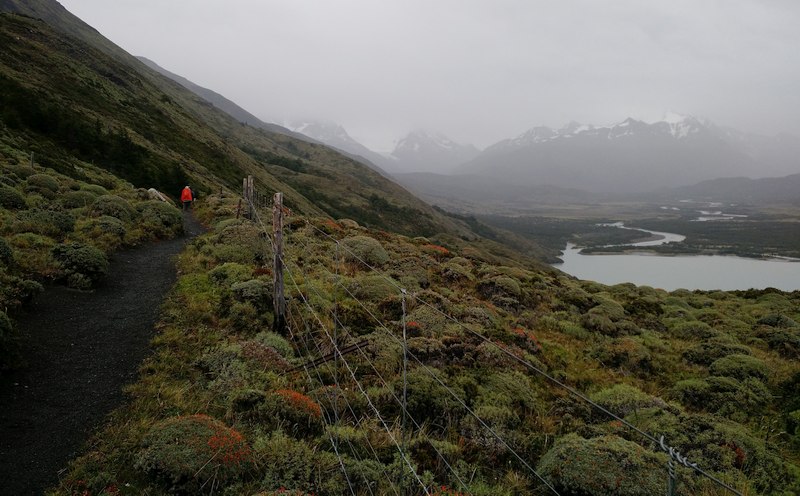 After a final short climb, the buildings in the meadow below us look just like an old west US military outpost, complete with a Chilean flag on an improvised pole. A couple icebergs populate the corner of the river, and despite being battered by wind and waves, they don't budge, likely stuck on rocks below. Eventually we decide that yes, there really is a glacier hiding in the fog across the lake to the north. The views from every direction at Dickson are so different than what we saw on the east side of the park, it's great to have another day under our belts with time to explore the area, enjoy the colors dancing on the rock faces above camp, and rest our feet before a long day tomorrow.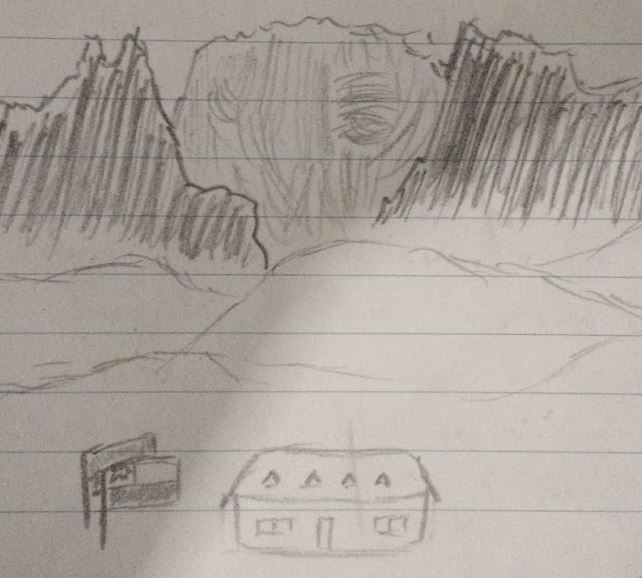 4 December 2016
We're up early to get a good jump on the long day ahead, and luckily it looks like yesterday's clouds are clearing out. We're much more efficient taking down camp and decide to get a bit up the trail before taking breakfast. We pause where the forest opens up for a bit revealing a view to the North. The morning light and blue sky create glistening, crisp lines on the glacier. Continuing up the valley the forest is so lush and full of unfamiliar plants that at one point I'm sure I'm in a video game.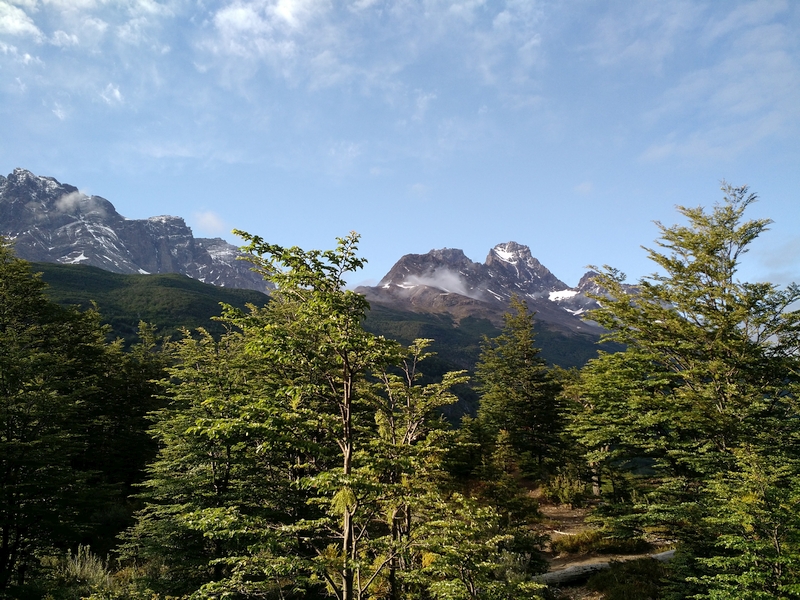 Words can't begin to describe the beauty of the terrain we pass through, but there's one other thing that helps: we haven't encountered a single other group on the trail. After a break in the shade at the Perros ranger station, we're fueled up for the steep climb ahead. While it's hard to tell exactly where the pass is from below, the view down the valley continues to expand. It's hard to believe how much ground we've covered - Dickson is hidden around a ridge far in the distance. Every few minutes the rocks change color and size, but we simply continue up, up, up. Soon enough, I feel a cool wind picking up strength and the saddle is just ahead of me.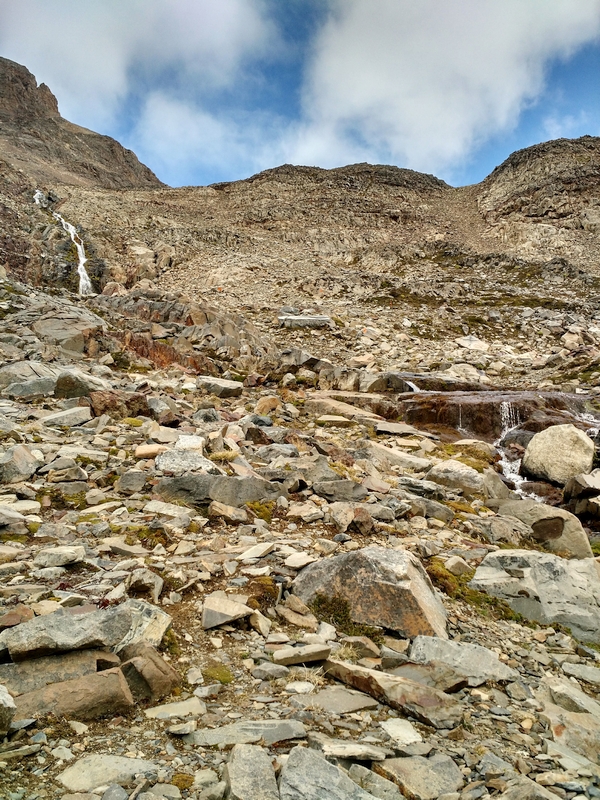 After a few moments of standing in awe, reality catches up and we seek out a windbreak to enjoy the solitude at the top of John Gardner pass. Directly ahead are peaks, some volcanoes, but more impressive is Glacier Grey below, feeding Lago Grey which we can see to the south and extending from the Southern Patagonian Ice Sheet to the north.

All of the trail literature warns about the way down from the pass, and they aren't kidding. I can't afford to allow the view to steal my focus away from the trail. As we descend, sometimes we find makeshift handrails: rope tied between trees or leftover rebar from anchoring steps. We're having trouble judging our speed. We've been able to complete most sections in about 75% of the quoted time on the map, but this downhill is wrecking us. Just as we're about to take a break in anticipation of another hour of hiking, we turn a corner to find the Paso ranger station and campsite nestled into the hillside.
Camp is very small compared to the others we've seen. There is a stream that flows through the tent pads and we immediately choose to set up near it for the benefit of white noise. There's space for only about twenty tents and not much common area or space for wandering. As it turns out, we're only joined by two other groups for the evening. The forest is thick, but if you squint you can make out the glacier below. As the sun falls, shadows dance on the broken icy surface.
5 December 2016
The forest here is different yet again; trees grow out of the slope at the horizontal, sometimes turning upward but often just reaching out. We move quickly on good trail that playfully bounces up and down in and around fissures on the hillside. Before too long we're at the first of two swing bridges. This one looks like it's straight out of a cartoon: maybe 75 meters long crossing a chasm with sheer faces so deep I can't see the bottom except when I'm on the bridge. I know I looked down once, but I don't have anything more than a vague recollection of rushing water and boulders very far below.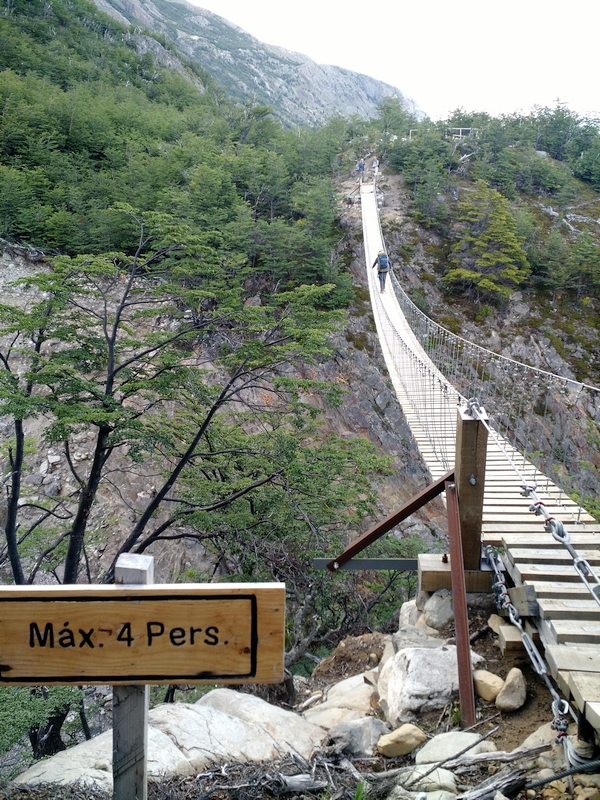 Yesterday's solitude is gone as we meet a number of day hikers from Grey out to explore the bridges and get a view of the glacier from above. By the time we arrive at Grey and take lunch on a sunny rock, we've heard a couple reports of a trail closure ahead, but no specifics. There's a ranger station somewhere at Grey, but honestly we're ready to get back to hiking and out of this bustling village. (Grey is a hike-in location but has a full service lodge/hostel and looks like it could easily hold 100 tents or more.)
We're now in an area of the park that burned just a couple years ago in a fire reportedly started by someone burning toilet paper. With all the shade gone, the summer sun is intense. The trail is now just a constant stream of people; in the couple hours it takes to hike from Grey to Paine Grande, there's probably less than 10 minutes total with no other groups in sight. Even so, the vistas are stunning. And meeting people on the trail is a bit interesting. Hikers hail from all around the world; we hear lots of French, Spanish, and German, but also Chinese, Nordic Languages, and others among all flavors of English accents. While in all likelihood English is the more common shared language, most groups acknowledge each other with a simple ¡Hola!
As we arrive at Paine Grande, we meet a ranger at the trail junction where we'll head tomorrow. It's closed. Luckily the ranger spot-on for this job: he's totally chill, and also encourages us to just chill out, not worry about reservations, and just go with the flow; the park is amazing even if it's not what you planned. After gathering a couple more details, we decide that today's travel isn't over just yet and race to catch the catamaran docked a couple hundred yards down the shore.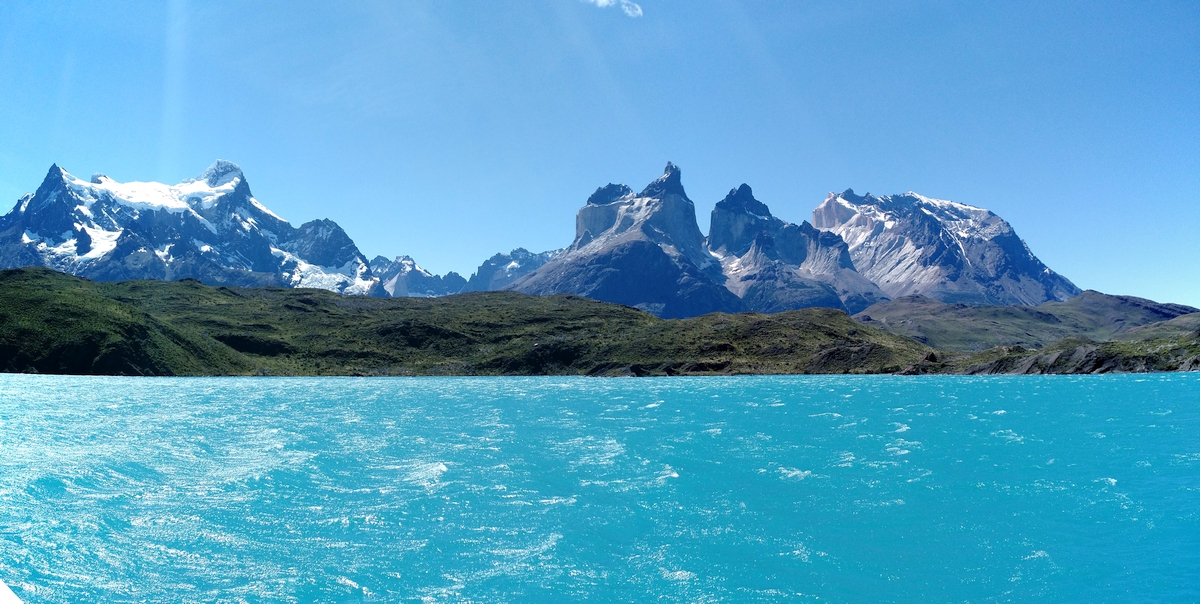 We're a bit baffled, trying to figure out what happens next: where can we get to for the night? Should we have just stayed and caught a possible ferry around the outage? Do we have enough cash? I try to take the ranger's advice, and at least for now, it's easy let my mind wander as I gawk at the incredible view of Cuernos as we speed across the lake. At Pudeto it's a bit more stressful. We wait on the porch of a cafe which helps break the constant wind, but it's still cold. Some backpackers are able to hitch rides, but vehicles are few and far between, most already hired private tours understandably not willing to take backpackers. We're also just not that outgoing and figure we'll wait for a bus towards Laguna Amarga / Torres Central. Of course, the schedules aren't super clear - it could be 4 hours.
I've never taken a boat and bus ride in the middle of a backpacking trip, but there's a first time for everything. As the catamaran pulls up to Pudeto after making another round trip, buses from every company rumble in. We're happy to see them. This run wasn't listed on our published schedule. An hour or so later, we're enjoying dinner in the camping zone at Torres Central.
6 December 2016
The landscape to the west out of Torres Central is again unique, the rocky soil mostly bare and grassy which affords views up towards Cuernos as well as sweeping vistas to the south. A young canadian couple out for a trail run pass us; we see them pause for a selfie on the next ridge before they continue on out of sight. The morning is surprisingly calm, but it is only a matter of time before the trickle of hikers headed towards us becomes a more constant train.

Cuernos del Paine is a beautiful formation, two enormous veins of golden granite capped with red/brown spires, with a third, miniature peak set in front. I'm glad we got the chance to see it from the catamaran and bus yesterday; today's view is awe-inspiring but a significantly different angle, we're right beneath the rock. After passing through the bustling Cuernos camp and lodge, the trail quiets down; with the bridge out there won't have been many people at Italiano last night. It's slow going on a trail surface of softball sized rocks by the lake; we note swimming opportunities for tomorrow.
Francés camping zone is sheltered by forest at the base of Valle Francés. We chat with the ranger, set up camp, and give our feet a break. Our day isn't quite over: today is our chance to venture to the lookouts above camp. We load a single pack with warmth and snacks and start uphill. It's not too long before the Canadians from this morning pass us headed down; they'll make it back to Torres Central before dark. We hear mini-avalanches as chunks of ice fall from glaciers and soon enough are rewarded by a view to the glacier from a bald patch. Continuing further up the trail jumps in and out of braided drainages, some forested and wet, others bare and rocky, the result of rockslides and avalanches past.
We spend almost an hour at Británico. No pictures can do this place justice, in part because the dancing clouds are even more stunning than the granite which surrounds, rising from every direction.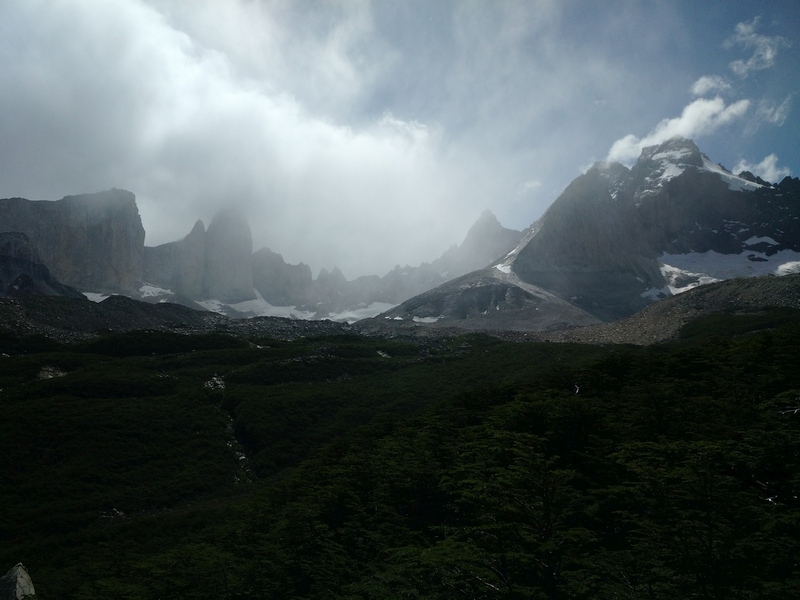 7 December 2016
I'm not really looking forward to today's hike - it's mostly just retracing our steps from yesterday. A quick dip in the lake comes just an hour out of camp (would have been more appreciated later in the day?), but it's still a great refresher. Continuing on, I catch a few views and features that we missed on the way in, but it's generally predictable and still as crowded as ever. We watch baffled as a group of 25 (!) people who clearly aren't used to backpacking take a major off-trail detour through scrub on the next ridge.
We're afforded our only solitude of the day as we push up a meadow bypassing the lodge at Torres Central. It's the last full day and while our packs have lightened up, our legs are tired. We're anticipating seeing the Torres peak out as we round the corner into valle ascensio, but end up making it all the way to the main trail before we finally pause and refuel. The trail here is more accurately described as a highway - backpackers at every stage of their trip, day hikers, and even horses fill the way up the valley. At Chileno tents occupy wooden platforms built into the steep valley walls and the park's namesake formation finally shows itself again. After another hour of jockeying with other trail users (and not really paying much attention to the surrounding forest, to be honest), the forest opens up at the bottom of a rock slide and we follow rocks with day-glo yellow tape into camp.
8 December 2016
My watch alarm goes off at 4am. It's dark outside, but once I get my bearings it's obvious we aren't the only ones awake. The reflective markers make trail-finding surprisingly easy; every time I'm the least bit confused, scanning with my headlamp quickly reveals a new marker. Technically hiking at dark is prohibited by park rules so the reflective hits are an unexpected touch. Above the trees I no longer need a light at all and it's peaceful to hike in the dark with the lights of other groups seeking the sunrise bouncing around up and down the trail.
Torres is better in person that the photos which make all kinds of weird tricks for scale, but my first impression is that I'd still take Britanico or John Gardner Pass over this view. It doesn't help that it's cold and windy, and it doesn't look like we're going to experience the storied golden glow of Torres at sunrise - low clouds move quickly but show no signs of breaking up. After an hour or so of watching condors cruise among the spires and pointing out increasingly intricate irregularities in the rock faces, we ask another group to snap a couple photos and head downhill with no regrets.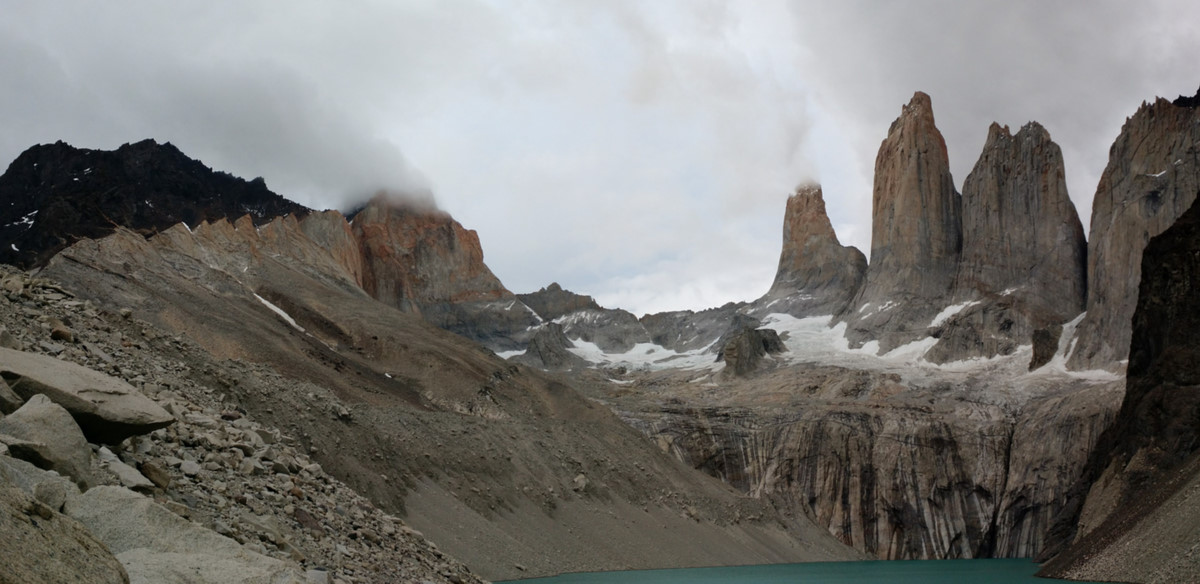 Back at Chileno blue sky begins to show itself and light up the towers. We snap a few photos, but to be honest it's just like yesterday afternoon's approach. After just another hour flying downhill we're back at the Torres Central lodge with mixed feelings. An amazing trip with an anti-climactic ending, but more than enough memories. A modern adventure booking office and cafe provides shade, impressively clean washrooms, and a place for us to relax and reflect while waiting for the bus back to Puerto Natales.
Our stop at Puerto Natales is unfortunately limited to the bus station. I would have liked to pick up more mixed dried fruit and nuts, but we've purchased tickets on to Punta Arenas and town is a 15 minute walk from the bus station. The bus seats aren't great for sleeping, but it doesn't matter. I nod in and out of consciousness, catching occasional glimpses across the desolate southern chilean prairie until we finally pull in. After an adventure to the wrong side of town (thanks to a mis-keyed tourist bureau / hostel association map) we check in, drop our packs, and head out for a new adventure: post-trail dinner and beer! I'm still not sure of my feelings on the pizzas we consumed from Dino's Pizza, but if anything it was a fitting close to our Torres del Paine adventure.
I'm happy to still have a couple days in Chile - the backpacking was amazing, but I'm excited to see what else Punta Arenas and Santiago have to offer.
9 December 2016
We have one goal for today: Penguins. After a good european breakfast of bread, meats and cheeses, and extremely nutty granola cereal, we walk to a travel agency office pointed out by our host last night. We wouldn't have figured out this was the right place by simply looking around in town, but we soon have tickets for the tour and all day for more sightseeing - the boat doesn't leave until 4pm.
Punta Arenas is a bit of a strange town, visibly struggling to find an identity and the right mix of industries to support its residents. We climb some stairs to a viewpoint where we can see neighborhoods stretching in every direction. It seems like city center has shifted as industries come and go (farming/ranching, mining, marine/sailing/shipping, and tourism all play a role). Back on the waterfront, a Brazilan flagged navy ship pulls into harbor in the constant wind. We spend over an hour wandering through mausoleum filled rows in the town cemetary. Some are modest, others more ornate. It's a mix of young and old, and a global population in this port town.
We've walked all day, but it's worth mentioning an interesting form of transit in Punta Arenas. Only a few public bus routes run, but most locals don't need to drive because they use colectivos. In short, private cars take passengers on fixed routes in a system that's a mix between a public bus and a shared taxi. I'd estimate that nearly 50% of the vehicles in Punta Arenas are either colectivos or traditional taxi cabs. The frequency win for passengers is great (many colectivo routes seemed to run every minute or two!) with the drawback that a bus is still a more efficient use of space on the road. We end up taking a taxi to the ferry terminal - with three of us it makes sense to guarantee a ride together, and the split cost is roughly equal to the colectivo fare anyways.
I'm glad that the straight looks calm; I've had mild sea-sickness in the past, and four of the next five hours I'll be on a boat in the Straight of Magellan. The boat, a multi-purpose transport capable of carrying vehicles or large cargo, lowers its ramp and we walk aboard with maybe 150 others. A group ahead of us have patches on their jackets: "Kazakh Antartcitc Expedition 2016." The cabin at the rear of the boat, rather than crew quarters, is outfitted with rows and rows of seats. Bow empty and pointing to the sky, the trip to Isla Magdalena with the prevailing winds is long but calm.
We never really figured out the reasoning for the timing, but I wouldn't be surprised if sunlight had a factor. Even with a sky of broken clouds, the lighting was fabulous. Oh, and there were penguins. Many, many penguins. Being a bit early in the season, we were told that only about half the population was present, but the place still felt entirely overrun. We were clearly outsiders, appropriately confined to a meter wide path (which the penguins would wander across if they desired.) Four hours of boat for an hour on the island was a little much for me, but still an experience I'm glad I got to share. Dinner back in town wasn't exactly anything to write home about, (restaurants were all surprisingly full this evening) but we did get live music from a high-school band playing their first gig and helped our waiter practice his English.
If Punta Arenas can grow into a destination, they'll have a lot to offer, but my overall impression is still very mixed. All is well; tomorrow we have an early flight back to the capital.
10 December 2016
Santiago is a weird mix of architecture. European and Latin American, old and new; tight neighborhood sectors split by giant boulevards. My memory of this day is quite rushed - after an early flight and then transiting to our hostel with a very friendly taxi driver, I remember a lot of walking. We knocked off many of the sights but didn't linger much anywhere. The temperature is similar to what we experienced in our earlier excursion to the city, but at least this time we aren't directly off the plane from Canada. Coming off the trail, it's hard to not feel overly paranoid of pickpockets as we make our way though the busting city crowds.
Just across the canal from our hostel we peruse a pop-up market full of video games and anime items. Markets are really the theme. Bellavista is a very Americanized, upscale, interior-facing block of restaurants - I'm not sure why it was on our list - but as we wander the surrounding neighborhood it's interesting to see that about half of the bars and clubs here are open and serving fairly standard lunch fare. After walking through the garment district (plenty of storefronts are actually factories making shirts or doing alterations), we reach the markets. The Vega, a true farmers' market, is unlike anything in the states. Narrow aisles are jammed with stalls selling all sorts of produce and it smells fresh and delicious. Seven kilo crates of frutillas (strawberries) sell for 5000CLP, or about $8. We get lunch in another market, Tirso de Molina, at a restaurant operating four different kitchens distributed alongside stalls selling apparel and trinkets. Fish are thrown in Mercado Central, reminding me that Seattle's Pike Place Market isn't as unique as it might play itself off to be.
A bit of natural shade and a wall to sit on are a welcome sight on the way up Castillo Hidalgo. This park is a fun little maze of stairways and castle walls on a hill in the central city, with the summit providing a view about level with the tops of the skyscrapers dotting urban landscape sprawling in every direction. After hitting just about every district in the downtown core, we grab beers at a street cafe before parting ways with Anton who flies out today. Alex and I have another 24 hours in the capital, but right now we're tired. After a long and hot day of in-town walking - pavement is much less forgiving than bare earth - we fill up on some phenomenal Peruvian fare from Olan and plot out tomorrow's adventure.
11 December 2016
Sunday morning the city has a new face on; lots of stores and closed and the sidewalks are much more quiet. Ciclovia, a Sunday Parkways / Streets for People event, is closing down as we make our way from the hostel to the Museo Chileno de Arte Precolombino. A few groups of cyclists and rollerskaters whizz by smiling. The museum is phenomenal - most notable to me is an actual quipu, the knotted strings used by the Inca. It's always cool to see artifacts that are referenced in elementary level history books, especially the ones like this that are totally unbelievable.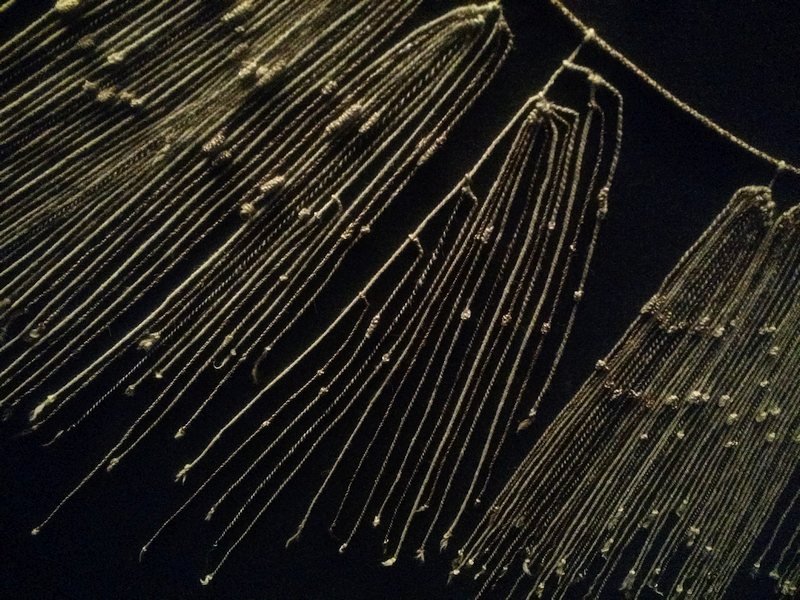 After lunch at a soda fountain, we're back at the markets to grab some snacks and gifts for the long trek back to the states. The restaurants are hopping, but many of the storefronts are closed today, just like the streets in town. It catches us a bit off guard for this area to be so dead compared to yesterday, but we're able to find what we need.
"¡Helado Helado Helado Helado Helaaadoooo!" The calls of roving ice-cream vendors echo through the park. We're killing time in some shade before heading to the airport. The park is reasonably busy with people like us, just passing time: lovers, aspiring athletes, kids with all sorts of activities. An indie photo shoot happening nearby takes advantage of sporadic wind gusting from a tunnel exhaust vent. Making our way back to the hostel to pick up our bags, we discover the beginnings of a very large parade. Hmmm… hopefully this doesn't affect our ability to get to the airport. With our full packs now, we have to balance the excitement of the dense crowds on major streets with the reality of making it to the bus station and our flight. After a couple blocks of getting stuck behind vendors selling to families on blankets, we find a parallel route and we're back on the centropuerto bus, saying ¡Chao! to Santiago and Chile.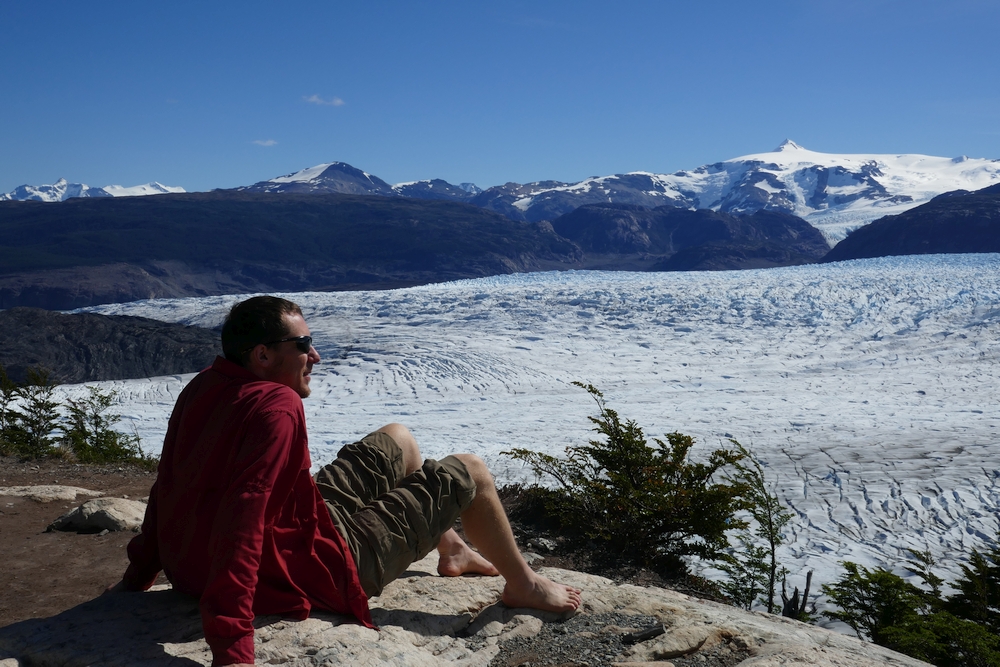 ---