Did you know that you can navigate the posts by swiping left and right?
Seattle Adventure Running Tournament
This past weekend I raced in the 2017 edition of the Seattle Adventure Running Tournament (SART), a set of six sprint orienteering races.
The main defining feature of SART is the bracket: rather than earning points for placement, totalling elapsed time, or some other method of scoring individual races, competitors are split into heats of five and race to move up and down the bracket. And unlike typical orienteering races where competitors are started at intervals in order to discourage following, SART heats start with all five people at once. It's both exhilarating and terrifying, and I love it. Before I share my thoughts, a huge thank you to Patrick, SART Event Director, and the volunteer team. There is an incomprehensible amount of work that goes into this event and it has gone off without major issues every year. With that said, let's get off to the races!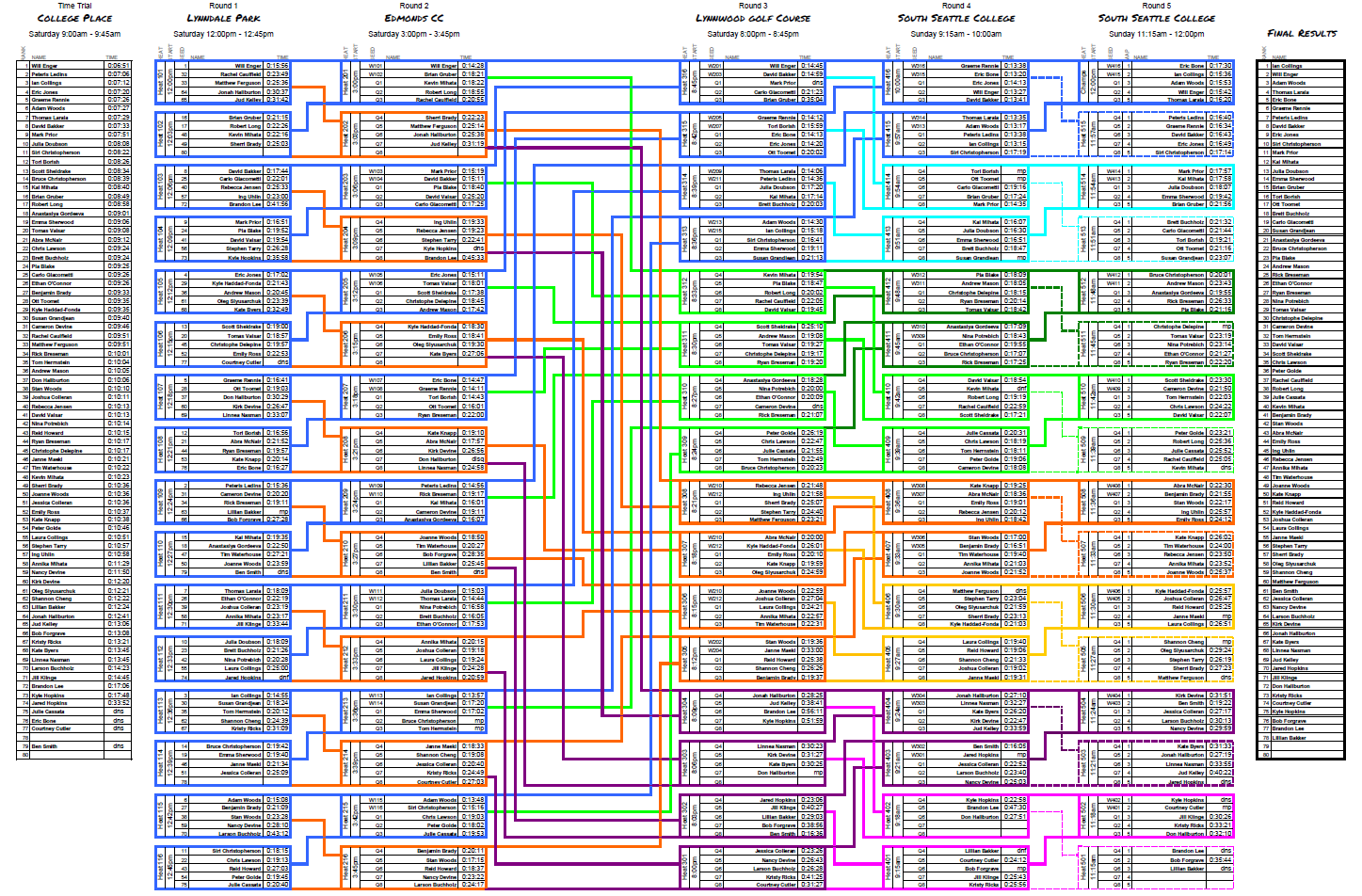 Round 0: Life comes at you fast
Map: College Place Schools | Results: Cascade, Winsplits
A quick and flat mile long jaunt around an elementary and middle school campus in light rain. (Our first rain in months?) Fences and buildings with overhangs presented a good opportunity to get into the urban sprint orienteering mindset, though overall this was a very simple map with few actual traps. The dense grid of small buildings created plenty of corners to duck around, which helped this race feel less like a simple following exercise. (Individuals started every 30s for this race.)
I felt pretty good when I finished, but certainly felt like I could have gone faster. Apparently that wasn't necessary as I earned the 4th place seed. Because of the balanced bracket, I consider the time trial to be one of the more important races. With my high seed, I should be able to relax for the next two races and save my legs for when it really matters: squeezing into the top 10.
Favorite Leg (design): 2 to 3
Presented with many similar options through the buildings and to the inside corner of a fence (check your control descriptions!), I chose quickly, but had a slight bobble when I ran past the first building in a blur and didn't count it off in my head. At 1:4000 scale, life comes at you fast!
Round 1: Don't trust the top seed
Map: Lynndale Park | Results: Cascade, Winsplits
The hilliest round of the tournament in a forested park with a maze of trails and ravines. Never underestimate the challenge of a local park; making the correct lefts and rights on social trails in quick succession at sprint speed isn't always easy, as I learned on the way from 1 to 2. Tight corners and quick changes in terrain types also created a challenge exiting number 10, where paths lead in every direction. After the quick u-turns necessary to get into and out of the control, I chose the wrong path on the way out. Don't forget to use your compass!
In the end, because the high seeds are spread out across the bracket, I didn't have any real pressure after dropping the rest of my heat by control 4 or 5. While this was always going to be a pretty relaxed race for me, that's not true for everyone. This race splits the field into top 40 and bottom 40, so if your goal is to be above that bubble, this is most important race of the weekend.
Favorite Leg (design & experience): Start to 1
The first leg was relatively long, but required an almost immediate decision after flipping the map. In the first heat (which included seeds 1, 32, 33, 64, 65), everyone looked on as four went left while only a junior went right. From then on, nearly everyone went left and checked the map on the way for the next decision (myself included). Turns out we were all wrong, and the junior was correct. Don't trust the top seed.
Round 2: It won't be easy after this
Map: Edmonds Community College | Results: Cascade, Winsplits
Even though this is an entirely new map, it ran just like the other seattle area community college maps Patrick has made, which is to say very fast, but requiring some careful concentration. All the community colleges seem to have similar layouts with a small core of about 10 oddly shaped buildings and plazas, surrounded by huge parking lots and a few other features. This often makes for great courses, with route choices in and out of the campus core that can penalize mistakes by a good 5 to 10 seconds on a 60 second leg. The characteristically Seattle overcast skies were a much appreciated feature for my 3:12pm start time - and a major change from the high 80s, sun, and haze/smoke we've had the past few weeks.
Having moved up, I was challenged a bit more out of the starting blocks this round with Scott and Christophe punching only a couple seconds behind me at 2, but both went down the stairs and lost about 10 seconds on the way to 3. My correct route choice under pressure was a huge confidence boost, and with a couple hedges now between me and them, I had first locked in save a terrible mistake. The race wasn't over for the rest of my heat though: all four in the train behind me battled it out all the way to number 15 before starting to separate. That's the kind of high stakes racing I love about SART, and I suspect I'll get it in the next round.
Favorite Leg (design): 15 to 16
A deceptively simple leg that isn't so simple at the end of a race. I took what I believe is the best route, staying right on the path along the fence, then south of the building and into the control. Left and through the parking lot looks great until you realize you must approach the control from the south corner of the building, at which point the zig-zag through the parking lot hurts.
Round 3: Night Train
Map: Lynnwood Golf Course | Results: Cascade, Winsplits
It's dark. It's a brand new map. And not just that, it's a map unlike one I've ever run on: a golf course. Oh, and this is the race that will separate the top 10 from those who finish the weekend ranking 11 to 20. This is my bubble race, I'm not a top 5 contender in this field. No pressure. Maybe this will take the nerves off:
Graeme took the lead out of the blocks and all five of us punched 1 together. And 2. And 3. And 4. When I say together, I mean it - I saw Eric B's punch in the control before mine and Tori was waiting in the same way for me. I actually didn't have any idea where Ott was, but I had to assume he was right behind Tori (he was about 10s back at number 4). I was getting suspicious at this point - the pace felt a bit slow for this elite crew, but we were all still getting familiar with matching the map to the (dark, shadowy) terrain. I was tentatively happy to let Graeme and Eric duke it out a few seconds ahead of me but in the back of my mind I knew that a third place finish is no guarantee of moving up.
The pace accelerated noticeably around 5 or 6, now that we were all more confident with the map. With me still right on Eric's back, I suspect Graeme and Eric had no idea how big our train was at that point, but both exploded out of 8, making the expected move to try to shake off followers on the long leg to the south end of the map.
Eric B punched first at 9, but to my amazement I was still only a few seconds back. Close third is an extremely fun place to race from: with two competitors trying slight variations on routes ahead of me, all it takes is a small mistake from either for me to swoop in and grab second. And I can stay tight because from third I have the best angle to react to whoever ahead of me pinpoints the control location. That said, third is not first, and a mistake may also be my only opportunity. It can be tough to pass on short, straight legs due to the slight pause as each person punches creating an extra half-second of separation even if you're at the control at the same time. It's also a risk to jump ahead too early with this crew - navigating at the front takes significantly more mental work than following, and I'm sure that whoever is behind me will be happy to take advantage of any mistakes I might make.
Opportunity presents itself at the next control: Graeme overshot 10 by a few steps and I managed to punch second, helped in by the red flash and audible beep of the control box. Time to keep my head in the game, there's heavy breathing right behind me again. At 12 I go left around a thicket in order to have a smooth exit and beat Eric B to the flag by a step. I'm in first!?
I'm also out of breath and there's a US National team member and a very fast Canadian chasing me down this par 3 in the dark.
I'm perfect to 13, but bobble 14 and have lost the couple steps of separation I had created. I punch 15 in second and at 16 I'm back in third. G splits left to 17 while I stick with E, deciding that I'd rather not pass through the deep dark forest. It turns out it's about a tossup. We pick up Julia from the previous heat, and she does well to stick with us for the last couple legs to the finish.
About three minutes later Will casually walks the last 10m to the finish, his heat mates not yet in sight. "Some of us had to work for this, ya know!" quips Graeme. Once we confirm those of us from the night train all have faster times than Will (who won the heat we're matched with), I know I'm through to the top 10. What a way to finish the day.
Favorite Leg (design): 1 to 2
Start to 1 might downplay the complexities of this map, but on 1 to 2 they slap you in the face. Exit the right direction with a compass (it's night, so good luck just looking for that green across the way), slip between the green and the sand, across the cart path, pop through the trees and … well, at this point I honestly have no idea if I'm right or left of the line. After a wide open easy first leg, this was an awesome reset of expectations for the night.
Favorite Leg (experience): 11 to 12 to 13
I love the rush of racing head to head, and it doesn't get better than slipping into the lead and having people chasing you down while you're all making decisions about where to go. I didn't get enough of this in the earlier rounds, so I'm glad I was able to lead this one for a bit.
Round 4: Forgot to carry sandbags
Map: South Seattle College | Results: Cascade, Winsplits
New day, new venue, new map. Tired, nervous, and sore legs. Realistically, I'm not moving up and should save everything for round five, but where's the fun in that? Flipping the map I was surprised to find a chunk of medium green, trails, and contours filling the middle third of the page. Nothing too tricky, but anything unexpected is an added challenge. I felt like this round ended up as more of a run than an orienteering race as there were only a few route choices to make, but I'm sure a lot of that was to save the more complex parts of the map for the final.
I was already in fifth by number 2, but kept visual contact with the pack through about 10. Mistakes happen, but at this point I really should have slowed up to save for the final. My brain had other ideas, because as my pack moved further and further away, I saw they had picked up and overtaken Siri from the previous heat. Now I have an achievable goal for this round: could I catch up to her? (This, of course, is dumb strategy - unless there are a comedy of mistakes from the leaders, I'm going to be racing Siri head to head in the final round no matter my time here.) Oh well. I keep the gas on and finally pass in the sprint to the finish. To the 6th place final we go!
Favorite Leg (design): 6 to 7
During the race I completely missed that there was a choice here. That's the gotcha of just following the back of a pack. Everyone ahead of me went over the wall and up through tall grass, and I begrudgingly followed, oblivious to the fact that I could have taken a more gradual climb on much better footing and a very similar distance traveled by going left and up the road.
Favorite Leg (experience): start to 1
An entirely unexpected, long-ish forest trails leg to start the round. Graeme, Will, and Eric B all went right ahead of me, while I tentatively made the decision to go left, followed by David. We popped out a few steps ahead, almost getting run over by the pack flying downhill on a straight trail. (I was passed on the way up the hill to 1, but still a fun start!)
Round 5: So close, yet so far…
Map: South Seattle College | Results: Cascade, Winsplits
The bracket has done its job admirably: my heat is Graeme, Peteris, David, Siri, and myself, which on paper should be my tightest race all weekend. It's a bit of a stretch but certainly possible for me to beat all of these people. It's also easily possible for each and every one of them to beat me. If all goes well, I won't know the answer until about 15 minutes after Kathy says "Go!" and we're all sprinting to the finish together.
Round 5 is forked, meaning that we each get variations of the same course. At SART, this is done by creating loops of controls that runners take in a different order from each other. At the first hub control, some start with loop A, others with loop B. At a second hub, repeat this idea with different pairings, creating four different courses for the five runners. (In previous years there have been three loops at the first hub, allowing for five totally different courses, but also leaving one runner solo. I'm curious to know why this wasn't included this year - it's possible that the map just couldn't handle it, but also possible that Patrick decided the solo runner had an unfair disadvantage.)
"Get ready!"
A few clouds float in an otherwise clear blue sky, an occasional breeze provides relief from the warm sun. My heart is racing. I lean forward, right hand gripping the watch on my left wrist, the compass on my left thumb now hidden from view so it's face up on the map I'm about to flip. On my right wrist are the 29 control descriptions. I've discerned that the first hub is number 1, I have a loop of three, then a loop of four, and then a few more controls before more loops. While I'm with the train to 1, I need to find 2 and 6 on my map so I have a better shot at picking the correct line (of six options) out of the first hub. Every second counts.
"Go!"
In a brush of familiarity, Graeme and I are paired for the first loop, and I stick right on his tail. Back at the hub I see Siri, but everything else is a blur, with people from many heats here now. I'm with Graeme again for loop two at the fist hub, and lose a second questioning this fact. (Only after the race did I put it together that with only two loops, I'll race with the same people until we complete the hub.)
Down the corridor to 11, I'm in second behind Graeme, but I have no idea what's happening behind me. No time to look. I see Graeme run past 13 and I punch first, but to my surprise see both Grameme and Siri heading towards me when I look up on my way out. How did I not notice Siri get ahead?! (I'll find out after the race she went North around the building to 13 while Graeme and I went East/South.) I make a couple bobbles into the parking lot on the way to 14, and after punching, get my first view that yes, everyone is still bunched up. This next hub is going to be a doozy.
Graeme passes me on the way into the gardens, and Peteris is right on my tail. I stumble my way to 16 in this maze, and find it's Peteris who is now right behind me. I haven't planned the next leg. I mistakenly go too far west and punch after Peteris at 17 and 18. Back at the hub no one else is in sight. I lose Peteris on the way to 20, but after a confident route choice returning the way I had come, am surprised to punch just ahead at 21. Back at a hub for the last time, it's sill anyone's race. Graeme (who did this set of loops opposite me) and I punch together, with David and Peteris only a few steps behind. I don't see Siri, but have to believe she's still a threat.
Unfortunately, the rest of the course is light on navigation, and at this point I'm already on my last legs. Out of the gardens we all head right and I've dropped back to fourth on shaky legs as we cross the sunny field towards construction fences. I gain a few steps taking the road between new and old construction, but lose that gain and more going left around the building rather than through the courtyard to 23. I'm trying to push, but it just isn't there. At 25 I bobble my punch and get discouraged, allowing a 3 second gap to expand to 5. Only a mispunch or a major mistake will change the finish order.
Exiting 28, the crowd is in view, as is Graeme leading our heat to 29 and the finish. We're tight, but not tight enough that a last second burst of speed can change anything. We each turn it up for a final push: Graeme gains another two seconds over Peteris, and David makes up one of those while the now six second gap between David and I remains unchanged. Just past the finish, we all flop, completely winded. I was only 15 seconds behind Graeme. So close, yet so far. I manage to sit up and high-five Siri after she comes in just 25 seconds behind me, a single mistake in the gardens accounting for nearly all of that gap. A couple bobbles and the smallest bit of running speed at the end of a long weekend of racing is all that separates 6th from 10th.
Favorite Leg (design): the garden loops
This was a great technical challenge, and navigating fast was tricky! I had the west loop of three before the east loop of two, and boy were there just so many options to every single control. In sprints, pick a route quickly and execute well is typically my strategy, and that generally held here: good execution on a non optimal route didn't lose much time. But that wasn't without exceptions - there were some trails with wandering, roundabout paths that could be punishing, making me pause more than I wanted to in this high stakes race! I also really appreciated that while the map looks to be a possibly confusing mix of out-of-bounds and in-bounds terrain, the out-of-bounds areas were generally quite obvious.
Favorite Leg (experience): 10 to 11
This was so fun - a long straight corridor after completing the first hub giving everyone a chance to see where they stand. Maybe not the most interesting orienteering, but in a head to head heat, this was thrilling. I was in 2nd and chose to not look back, but if I had I would have seen Siri, David, and Peteris biting at my heels!
In Summary: Mayhem!
I'm proud of my 9th place finish, a repeat placement from last year in a different but equally challenging field. And I felt like I earned every bit of it this year, not squeezing in somewhere due to a bracket pairing, mispunch, or dq. Overall in the field, I placed 9th in Round 1, 10th in Round 2, 4th in Round 3, 9th in Round 4, and 8th in Round 5. I got to experience the thrill of leading a pack as well as the heartbreak of trailing with no way to move up. I got to jostle for position in a crazy race at night against competitors known internationally. I ate a lot of cookies and gummy bears. It was a great weekend. See you next year?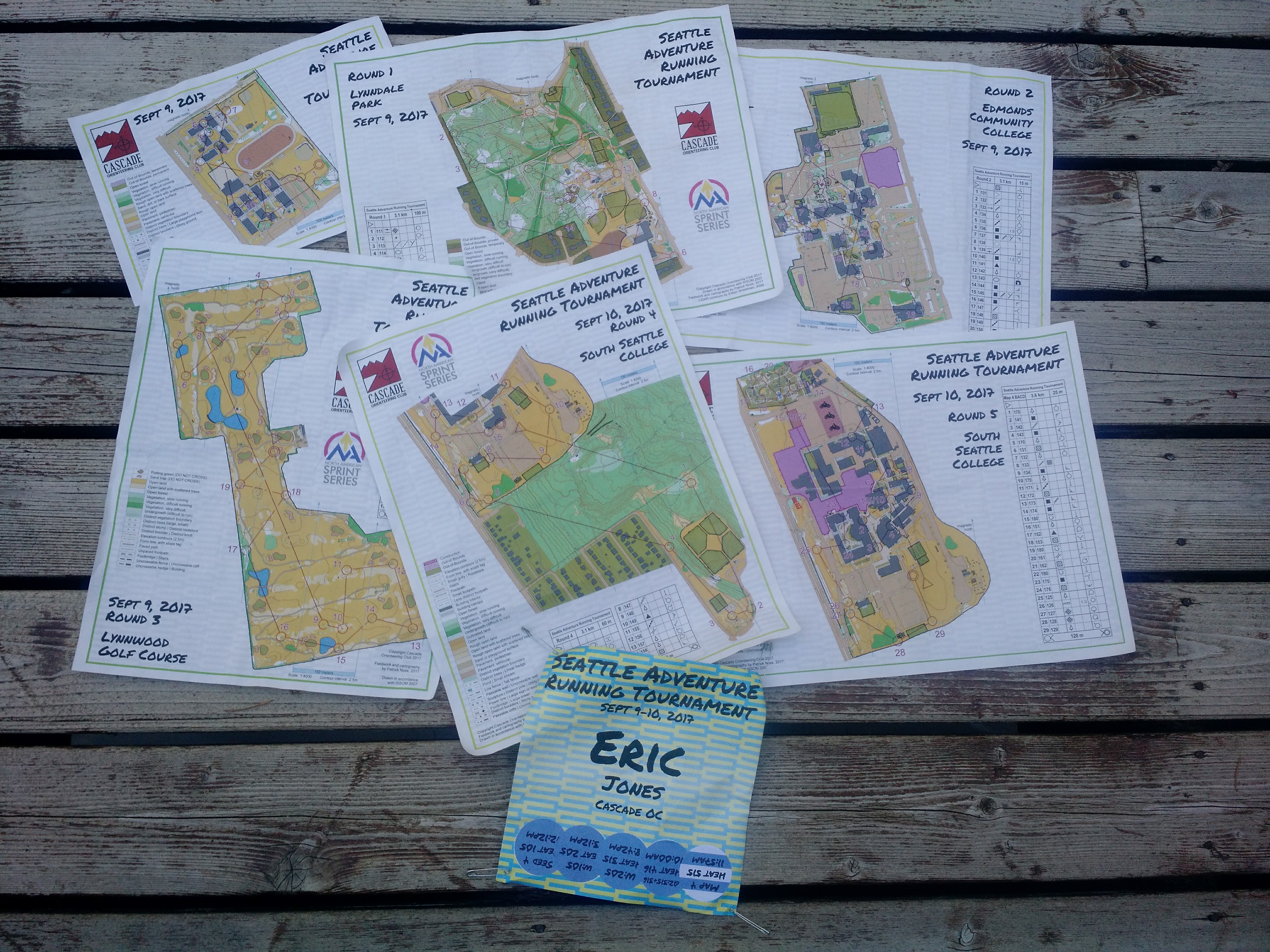 ---